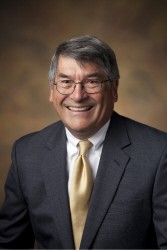 Allen D.
Rutledge, MBA
Financial Advisor, Senior Partner, Compliance Officer
Allen Rutledge is a senior partner and co-founder of Capital Planning & Investments, LLC in Atlanta, Georgia.
Allen was educated at East Carolina University (BA-1969) and Georgia State University (MBA-Finance 1974). After two years in the U. S. Army and graduation from GSU, Allen worked as office and financial manager with a New York based manufacturing firm until returning to Atlanta in 1975 to work in sales for a nationally known political education organization. 
U. S. Congressman Lawrence P. McDonald invited Allen to join his district congressional staff in 1983. After Congressman McDonald's death, Allen began his career in financial services.  His career began with Georgia International Life and Sun America Securities. Peachtree Planning Corporation recruited Allen in 1990 where he served as a financial advisor for the next 18 years. 
Capital Planning & Investments, LLC was formed in 2008 with partners, Ken Thomas, CFP and Ray Dotson. The goal in forming CPI was to better serve clients through an availability of a wider range of financial products and strategies and to maintain our independence by selecting a broker-dealer which did not create products of its own.
In May, 2010 Allen was appointed registered principal for Capital Planning & Investments, LLC. The firm has grown to eight registered representatives and three staff. An experienced advisor, Allen has served his clients for over 36 years and believes in a philosophy of "serving-not selling". He has qualified for Cambridge's "Signature Club" six times.
Allen has been married to Kathleen Boyd Rutledge of Arlington, Virginia since January 1971. Allen and Kathy are the parents of five sons and 31 grandchildren. An avid sportsman, Allen enjoys tennis, hiking, hunting, and fishing.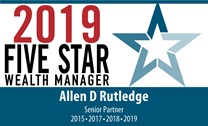 To receive the Five Star Wealth Manager Award, individuals must satisfy a series of eligibility and evaluation criteria associated with wealth managers who provide services to clients.  Recipients are identified through research conducted by industry peers and firms.  Third party rankings and recognitions from rating services or publications are not indicative of past or future investment performance.  For more information go to: www.fivestarprofessional.com.